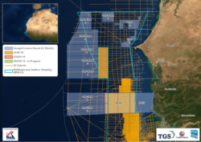 The licensing round comprises 12 blocks in the MSGBC basin, offshore Senegal. The final applications must be delivered to the Ministry of Petroleum and Energy by Friday, July 31 ,2020.
Petrosen is partnering with TGS, GeoPartners and PGS. At the same time TGS and GeoPartners have partnered on an active 3D seismic acquisition to acquire additional regional data. In that way, the interested parties can gain greater subsurface for their bid submissions.
This stand-alone survey, SN-UDO-19, is in northern Senegal and it is over 70 percent completed. The full dataset will be available by the fourth quarter of 2020.
The Mauritania, Senegal, Gambia, Guinea-Bissau and Guinea Conakry (MSGBC) Basin is home to several recent high-profile oil and gas discoveries.
After this license round launched in Dakar, further events have been planned for the 20th of February in London and the 25th of February in Houston.
Source: https://www.offshoreenergytoday.com/
https://www.worldoil.com
TGS (photo)